I know, I know… most of you are already long into your summer break… but my school hasn't ended yet! This Monday will be the 176th day of school… and the final day for my kiddos!
As such, I've been putting together my summer vacation packet for them and I decided to go with a day by day packet! The worksheets included follow a day by day pattern:
Math Monday
Tell Me About Science Tuesday
Writing Wednesday
Sight Words Thursday
Phonics Friday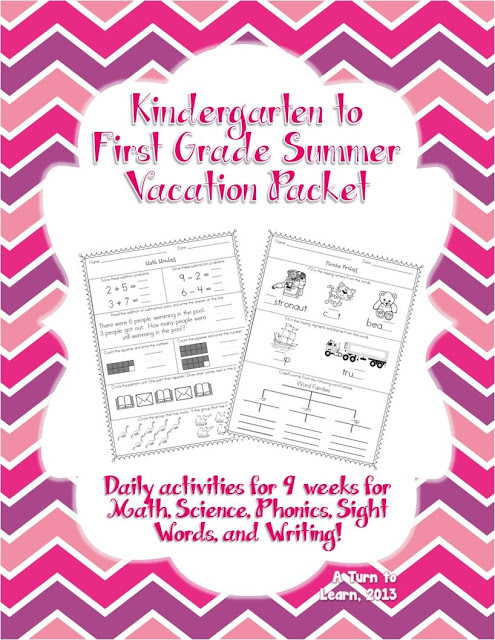 The following skills are addressed:
Math Monday
Addition, Subtraction, Problem Solving, Numbers 0-20, Patterns, More and Less
Tell Me About Science Tuesday
Summer, Autumn, Five Senses, Seeds We Eat, Winter, Animals in Winter, Keeping Healthy, Spring, Butterfly Life Cycle
Writing Wednesday
Telling a story using first, next, and last
Sight Words Thursday
away, about, around, any, beside, boy, could, come, came, close, does, down, every, eat, first, from, funny, find, gave, going, help, how, inside, into, just, jump, knew, know, look, little, make, many, new, need, once, open, please, put, ride, run, said, says, them, there, thing, this, under, up, want, went, where, with, your, you
Phonics Friday
Beginning Sounds, Middle Sounds, Ending Sounds, Blends, Digraphs, CVC Word Families
Here's a preview of all of the pages… or you can check out the preview at TPT by clicking the picture!

Enjoy!