Hello blog friends! It's been far too long since I have posted here but I didn't forget about all of you! Please accept this Goldilocks and the Three Bears freebie as my sincere apology for my prolonged absence from writing.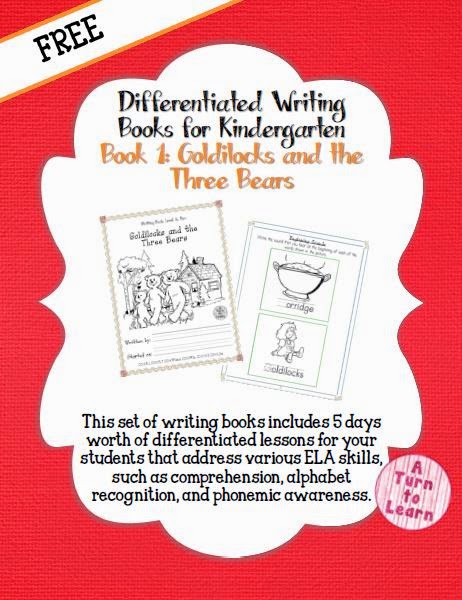 This book is the first in a series of differentiated writing books for Kindergarten. These books focus primarily on the fairy tales and folk tales included in the Core Knowledge scope and sequence for Kindergarten.
This writing book has your students work on so many different ELA skills over the five day sequence:
Day 1: Summarizing a Story using Illustrations (p. 3-4)
Day 2: Identifying Uppercase Letters (p. 5)
Day 3: Identifying Lowercase Letters (p. 6)
Day 4: Beginning Sounds (p. 7-8)
Day 5: Sounding Out Words (p. 9-10)
Oh, and did I mention that these books are differentiated?
Book A: Approaching Level
Book B: On Level
Book C: Above Level
Day 1 is the same for all three books, but days 2-5 are slightly different. The pages look almost exactly the same, but the work is slightly different (e.g. for day 2, students with book A have to find 10 letters and students with book C have to find 16).
I'm going to post a series of these books (and have a giveaway of course!), but in the meantime – enjoy this freebie!